Alpharetta Custom Sign Company
View Gallery
Give your businesses a way to become visible and boost your marketing strategy with the help of Alpharetta Custom Signs's unique signage and graphics!
Since we were established, our Alpharetta custom sign company has assisted thousands of companies and businesses of all sizes and various industries with their signage needs. Many love our services because we do everything in-house, which allows us to deliver high-quality signs for only a fraction of the cost and time needed to make them. We also offer quality customer service to each client to give them a clear idea of how their signs can look and how it will improve their business growth.
When you sign up with us for your signage needs, our team will do their best to create effective signage that can increase your visibility and bring in sales. Our signs will also give your customers the information they need to navigate your business and give them more reasons to trust your brand. Simply let us know what you are looking for, and we'll make the signs that match your request.
Call Alpharetta Custom Signs at (770) 872-6500 for your Free Consultation with an Alpharetta Sign & Graphic expert!
Signs That Work For You
If you want to increase your customer traffic, keep your workplace safe and productive, or share vital information, Alpharetta Custom Signs is ready to assist.
We are a full-service sign company that can handle every aspect of your project and produce the signs that will help you achieve your targets. We won't just design these signs to help your business become visible to your target market but also to serve as a guide for customers and employees alike.
We are always here to give you the best signage products you need and customize them for your use.
The Right Signage For Your Business
Alpharetta Custom Signs knows that every business needs to have its own style of business signs and graphics that will help itself stand out from its competition. If they use similar signs, it can be hard for customers to discern which one they should work and do business with.
With our team, you won't have to worry about this problem because we will create the signs that reflect your brand perfectly and offer the information customers and employees will need to know. We work with any business and industry, especially those who are on a budget for these important business investments.
When people see the signs we make for you, they will know that you are a professional business and ready to help them with their needs.
Outdoor signs require careful design and planning because they will be the first thing people see before your products and services. They will also be the ones to inform people about your business, where you are located, and what kind of business you are. They must be strategically placed around the business to catch the attention of the public and installed securely to keep people safe as they pass along.
For these signs, our Alpharetta custom sign company can create an efficient signage plan that will help your business flourish. The signage plan will highlight which outdoor signs should be installed in your business and how we can create them perfectly to your requirements. From storefront signs to a-frame signs, you can count on us to deliver them to you on time and get the people curious about your business.
Here are the outdoor and exterior sign options we can customize for you:
To ensure that people stay with your business and improve their overall experience, you will also need to invest in functional indoor signs. Having these signs can also boost your employee's productivity and morale, especially as they pass by areas where these signs are located.
If you request custom indoor signs from us, we will visit your business to determine which indoor signs should be in your shop and provide you with recommendations while we conceptualize the designs for these signs. We will also consider what is required by the law for your business, your business targets, and your budget.
Here is a short list of indoor and interior signs we have for you to consider:
If your business uses vehicles to deliver goods and services to clients, you may want to consider investing in vehicle wraps and graphics.
Alpharetta Custom Signs has an extensive catalog of materials that can be used and customized for any vehicle, from small cars to trucks and boats. The vehicle wraps we make also offer additional protection to your vehicle's surface, keeping it in pristine condition even after the wraps are removed.
Utilizing vehicle wraps can help with brand visibility and customer trust. Any industry can benefit from these wraps, especially those who do not have fixed locations or offices.
Here below are some examples of our vehicle wrap and graphic options:
Another important investment you can make for your business is vinyl signs and graphics.
Vinyl has always been the favorite material used by sign companies to make durable and flexible signs, banners, and graphics for business or personal use. They are also very vibrant to look at, making them the perfect material for signs and graphics meant to catch people's attention and deliver the information they need to know.
Alpharetta Custom Signs's team of talented sign experts can tackle your entire sign project and plan them accordingly, so they make the impact you want. We will also present you with samples of vinyl products to give you an idea of how they can appear once we design them with your technical requirements.
Down below are samples of vinyl signs and graphics you can request from us:
Every business is unique, requiring them to have a distinction from its competition. Alpharetta Custom Signs understands this fact, and we help businesses achieve this distinction by providing them with custom signs that truly showcase who they are as a brand.
Our team is proud of our dedication to detail, making only the best signs for our clients which reflect their technical specifications to the letter without charging a lot for the service. We also provide expert advice on how these signs can be modified, from adding special processes like sandblasting, etching, and others to creating a truly unique sign that is exclusive to your brand.
All of our signs are custom-tailored to suit every client, and our talented team is on standby to guide you through the project.
Complete Commercial Signage Company
Our Alpharetta, GA sign company is one of the best when it comes to providing high-quality signs to any business. We provide a full sign service, from design, manufacturing, installation to additional customer support. You don't need to partner with another third-party sign provider to complete the rest of the project.
Our service starts with a free consultation service, where our sign experts will discuss with you the nature of the project and what is needed. We will ask you everything about your business, your business goals, and your budget to conceptualize a draft design that can be modified to your specifications before we proceed to the next step.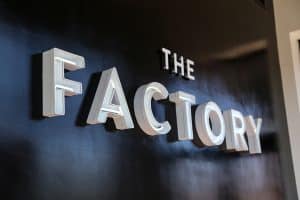 The next step, once the design is approved, will be our manufacturing process. Our team will use environmentally friendly materials and equipment to guarantee its durability and quality. It also assists in helping the environment, reducing the use of electricity, and producing waste. When the sign is complete, our installers will bring the signs to your location and install them for you. We also handle electrical work and permits if required.
Our team also does other signage-related services such as repairs, maintenance, and removal. We have the tools and equipment ready to assist you with these issues. Let us know what you are looking for, and we'll provide you with rapid and quality service in no time at all.
Our Commitment to You
When it comes to your signage and graphic needs, you should partner with an Alpharetta custom sign company that can see the same vision you have for your business. At Alpharetta Custom Signs, you won't go wrong because our team understands the importance of getting signs and graphics that are specifically tailored to match a brand and its set business targets.
We will use all our expertise and the latest materials and equipment to ensure that you get high-quality signs that will last and work continuously in helping your business thrive. Call us today to find out more about our sign service and learn why we should be the sign company you should work with for your signage needs.
Call Alpharetta Custom Signs at (770) 872-6500 for your Free Consultation with an Alpharetta Sign & Graphic expert!