Duluth Outdoor Signs
VIEW GALLERY
Businesses hoping to make it into the market must have outdoor signs that will call out to their target customers.
With Alpharetta Custom Signs's custom and effective Duluth outdoor signs, you will be able to get the attention of people who might be interested in your business and improve their impression of your business. From storefront signs to pylon signs, we can create them in-house and tailor them specifically to your requirements and budget. It is our commitment to provide you with signs that will help you achieve your goals and give your business a greater chance to stand out.
Our Duluth, GA sign company is always ready to assist and answer your inquiries about our outdoor signage service. If you are on a budget, no problem! Your needs and budget are always considered when we make your signs and guarantee they can compete with signs used by larger companies and businesses.
Call Alpharetta Custom Signs at (770) 872-6500 for your Free Consultation with an Duluth Outdoor Sign expert!
Storefront & Building Signs

Every business must have a storefront sign that will let people know that you are a business ready to serve and they can trust you with their needs.
Storefront signs can be customized depending on the business and design guidelines set for the industry, and they must be installed in key areas where people can immediately see them.
Our team will guide you in conceptualizing your storefront signs, and we will even visit your space to determine how these signs should be designed or installed. We will tailor the storefront signs to your brand identity to make you stand out from your competition.
Channel Letters & Dimensional Letters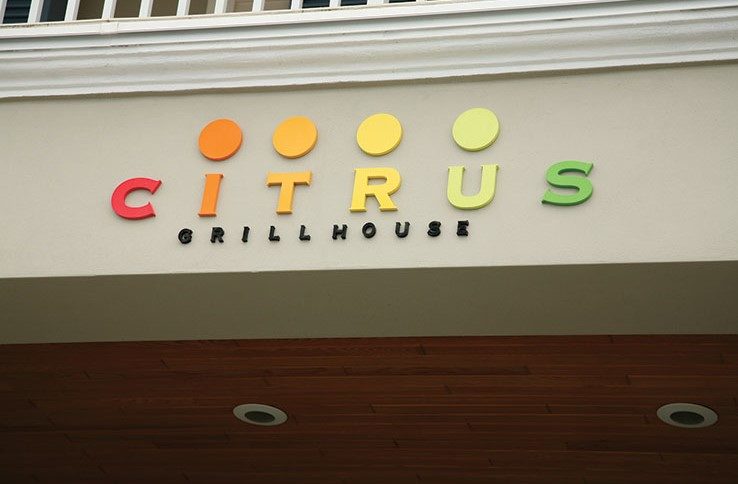 Channel and dimensional letters are a favorite for many businesses looking for a versatile and professional way to achieve their business goals. These signs are three-dimensional, providing a unique visual marker for businesses that use them.
Channel letters are made from individual pieces of material that are shaped like letters, symbols, or images, while dimensional letters are etched in solid blocks.
Both types of outdoor signs can be bolted directly to the building or supported by a backing frame. They do come in various colors, sizes, and styles, and additional elements of light and animations can be added.
Lighted Signs
Alpharetta Custom Signs not only has a great team of sign experts who can design, manufacture and install lighted signs, we also have a team of licensed electricians who can handle the electrical components for these signs. Our electrical team will connect the components to your mainline and ensure that everything is in perfect condition before we leave your business.
Our lighted signs use LED lighting to help businesses save money for power and maintenance. Neon or traditional lighting is very costly and tends to require constant maintenance, which can be detrimental to business promotions.
Lighted signs are suited for any business that wishes to catch people's attention, especially at night, like clubs, gas stations, restaurants, retail establishments, and more. It can also be used as an indoor sign to mark key areas of the business.
Custom Sign Panels
Custom sign panels are one of the most versatile types of outdoor signs available for people looking for an outdoor sign that is cheap, simple, and versatile.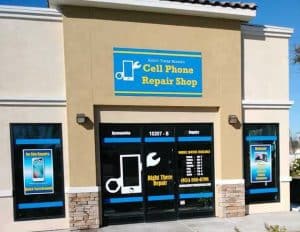 Solid panels, usually vinyl or metal, can be customized to display text, images, or symbols and installed directly to the building's exterior. Businesses can go all out for this type of sign because it is available in a variety of options and come with add-ons for a striking impact.
Our team can design your custom sign panels based on your requirement, location, and technical requirements. We can also help you determine where these signs should be installed and how they should be customized to match your budget and business goals.
Sign panels are often used by manufacturing facilities, corporate offices, and other similar organizations.
Canopy & Awning Signs
If you want to offer an additional benefit to your target audience while they check your displays outside your business, canopy and awning signs are your to-go-to marketing tool.
These signs can be customized to display your business name and logo while also offering shelter to the people passing by your business.
These signs are made from stretched material that can withstand rain and extreme sunshine.
Canopy and awning signs are perfect if you want to give your business front a classier tone and are very common among businesses like hotels, jewelry stores, restaurants, and salons.
Monument Signs
Monument signs are perfect outdoor sign options to consider if you want to make a great impression on your customers, employees, and other guests.
They are large structures made from durable materials like brick and metal and are usually at eye level for better visibility. These signs can show business information like the business' name, operating details, or events and can be combined with other signs like digital message boards or lighted signs. Some companies even use monument signs to serve as a welcome sign for visitors.
For monument signs, you have a variety of options for their materials, elements, and content. We can even do custom monument sign designs to catch more impressions for your business.
Monument signs are a staple for schools, resorts, government facilities, and corporate offices.
Pole Signs & Pylon Signs
Need extra visibility because you don't have a wide storefront or you're not located near a major road? Pole and pylon signs are investments you should make for your business.
Pole and pylon signs, as their names imply, are tall and can be seen from a distance. They can serve as a waypoint marker, as well as a storefront sign if you are located far away from the road. They can be customized based on your design and technical requirements, and they are very durable to use.
Businesses like restaurants, gas stations, convenience stores, and shopping centers can benefit from pole and pylon signs for their reach.
Complete Exterior Signage Provider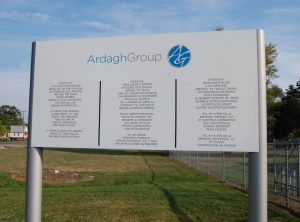 Every business must have an outdoor sign or a combination of outdoor signs to increase brand visibility and improve customer perception and information sharing.
Whether you need a storefront sign to let people know where your business is located or a pole sign to reach a wider audience, Alpharetta Custom Signs has the team, equipment, materials, and experience to make it for you.
We also do indoor signs to match your outdoor sign message for a more effective campaign.
Down below are some of the options available for our custom Duluth outdoor signs:
Can't find the right sign for your needs? We have an extensive catalog of sign options for you to choose from that we can customize for you. We love doing custom designs because it allows us to explore the options that can help your business further.
Full-Service Exterior Sign Company
Alpharetta Custom Signs has been the favorite of many local businesses and companies for their signage needs. Our team does every step of the sign project in-house, allowing us to offer our services for an affordable rate and give customers high-quality signs and graphics.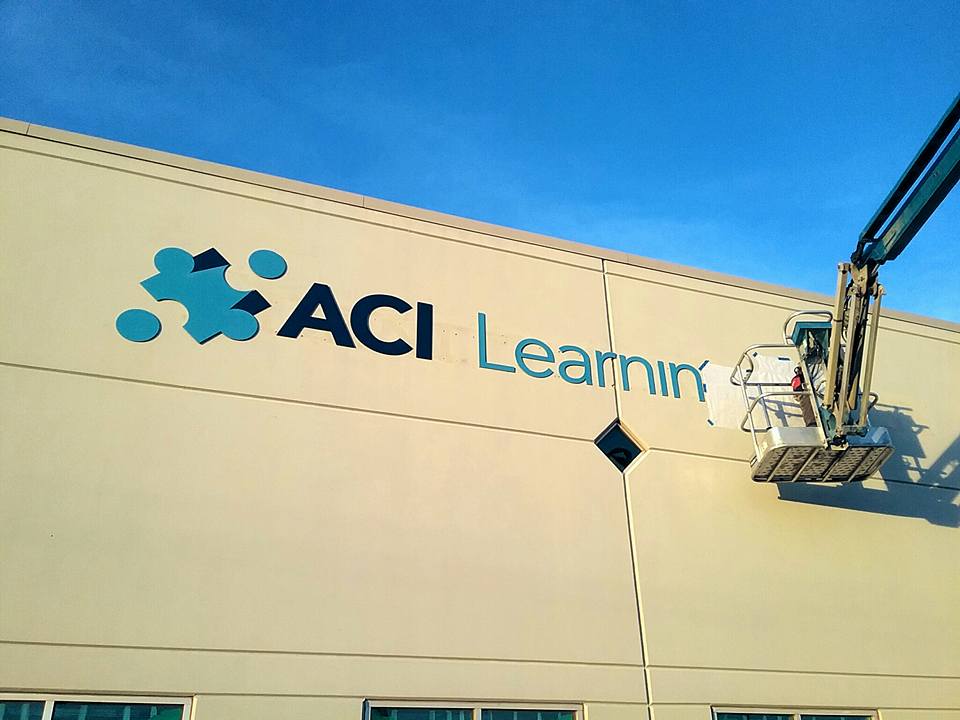 Our experienced sign experts are always hands-on when guiding clients throughout the project. We start by speaking to the client during the free consultation service and learn everything there is to know about the business and what business goals they would like to achieve through the signs. We can make signs using existing designs and guidelines or start from scratch to give your business a new look. Your ideas and requests are taken into account when we create a draft design because we want you to enjoy your signs and achieve the goals you have for your business.
If you like the design we made for you, our manufacturing team will take over the next phase of the project. Every sign is carefully checked to see if all the elements are met, and there are no imperfections on the final product. Our manufacturing team will also work on the permits to get these signs up in your location.
We have a professional team of installers available for your outdoor signs. They will pick the right location where these signs should be installed for better impact and sort out the electrical components if needed. We do installations quickly, so you don't have to worry about it affecting your business operations.
Free Outdoor Sign Consultation
If you need custom Duluth outdoor signs for your business, you won't go wrong with Alpharetta Custom Signs's talented team and exceptional sign products.
We take our time to get to know your business in order to deliver the design and final product you are looking for to get customers to flock into your business.
Let us know what you need today, and we will make sure that the signs we create for you can achieve your goals immediately.
Call Alpharetta Custom Signs at (770) 872-6500 for your Free Consultation with an Duluth Outdoor Sign expert!