Alpharetta Vehicle Wraps
VIEW GALLERY
Want to advertise your business further without relying on stationary signs and graphics? Alpharetta vehicle wraps can do the trick for your business!
Whether you are a small pop-up shop or a large company, vehicle wraps can boost your marketing strategy by reaching out to a larger audience while using your vehicle. Even if it is parked, it can catch anyone's attention and deliver the information you want them to know about your business.
Alpharetta Custom Signs makes it easier for businesses to acquire affordable and high-impact vehicle wraps—thanks to its full sign service! From conceptualizing the wraps to installation, our vehicle wrap experts can perform everything for you and give your business that added boost it needs to be visible.
Call Alpharetta Custom Signs at (770) 872-6500 for your Free Consultation with an Alpharetta Vehicle Wrap expert!
Vinyl Graphics, Partial Wraps, & Magnets
Vehicle wraps are some of the most effective means for businesses to market their products and services to their target consumers. They can be installed in any vehicle, and their coverage can be customized depending on your preferences and targets.
Full Vehicle Wraps
Full vehicle wraps are a game-changer for businesses hoping to look for an advertising space that is not only cheaper than traditional advertising methods but very visible.
When installed in any corporate vehicle, the wraps transform it into a walking advertisement that catches anyone's attention even if the car is parked somewhere in the neighborhood. These wraps can be customized to match your business's personality and in a variety of finishes for a more impressive impact.
These wraps also offer a second benefit to its users. When installed, it will keep the vehicle visible in any condition and protect the original surface from everyday damage. Our wraps also won't peel off and fade easily, even when in constant exposure to harsh elements.
Partial Car Wraps
Meanwhile, you can opt for partial car wraps if you don't want to cover your vehicles completely but still want that exposure for your brand.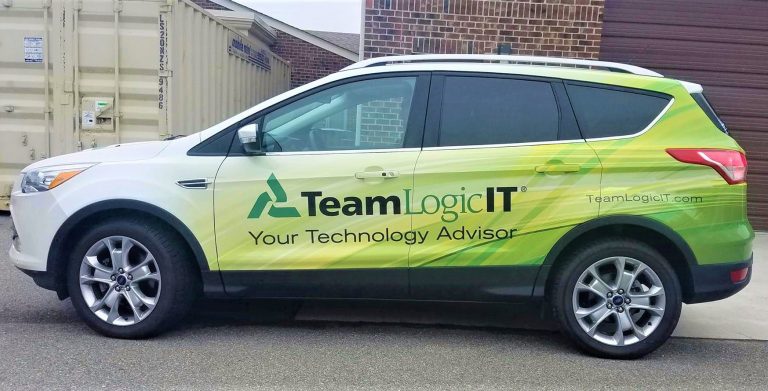 Partial vehicle wraps are often preferred by some businesses because they do not stand out too much and are more aesthetically pleasing since it is placed in certain parts of the vehicle rather than the whole vehicle.
Our team has the expertise, tools, and options available to create partial car wraps for your vehicle. Like our full car wraps, our partial car wraps will conform to your vehicle's shape to make the design plush and flawless when installed.
Partial car wraps are more affordable than full vehicle wraps but still have the same advertising impact.
Vinyl Graphics
Individual vinyl graphics offer a flexible way of promoting your business through your vehicle.
These cut vinyl graphics can be attached to any part of your car, allowing you to be flexible on its design and placement. If you need to add more elements or remove them, they can peel off easily compared to vehicle wraps.
For this option, you can request them to be cut into letters, short sentences, icons, and others.
Vehicle Magnets
If you use your business vehicle for personal use or live in an area where business signages or displays are not permitted, you can request vehicle magnets.
Vehicle magnets can stick to any part of your vehicle's surface and can be removed easily.
This option is very affordable and can be designed in various colors, shapes, and sizes.
Perforated Window Film
For a full ad coverage and seamless design, we can complement your vehicle wraps with perforated window film.
They work similar to vehicle wraps which can be printed to blend with the vehicle wrap design. You can also request them to cover only certain parts of your vehicle's windows.
These films will not affect the driver's vision when installed and offer additional privacy.
Let our team know what you are looking for in your wraps, and we'll make it a reality.
Professional Wraps for All Vehicle Types
Alpharetta Custom Signs is a trusted sign company that can translate customer ideas into effective vehicle wraps to match any business purpose or goal.
We offer affordable and high-quality vehicle wraps whenever a business needs them, and we are able to provide this service effectively thanks to our full sign service.
From design to installation and maintenance, we make vehicle wraps and business signage quickly and perfectly tailored to suit your technical requirements and budget.
Down below are some examples of vehicle wraps we can customize for you:
Aside from our custom Alpharetta vehicle wraps, we can also create business signs and graphics for a cohesive marketing strategy. Check our extensive catalog of signs and graphics today, and we'll modify them to match your requirements and budget.
Attractive Wraps for Your Entire Fleet
Every vehicle wrap we make for businesses assists in expanding their reach to the market and presents a good impression about the brand.
Since some industries deliver services to customers directly, it improves customer perception and experience. Customers will be more comfortable doing business with you if they see that you have a professional wrap in your vehicle.
Any industry can benefit from vehicle wraps, especially for those that offer services like repairs, installation, and others. Whatever your business is, our team can design the perfect vehicle wraps for your needs.
Promotional Car Wraps
Businesses using vehicles should consider investing in promotional car wraps to boost their visibility and expand their promotional activity.
These wraps can serve as an effective advertising tool because they will be visible to everyone in the community as you deliver goods and services from one place to another. The wraps can also protect your vehicle from scratches and other damage that can affect its value once you remove the wraps to sell the vehicle.
Vehicle wraps are perfect for businesses that provide services to clients, as well as those who do not have a permanent business address. The wraps will let people know you are a brand they can trust and know all the information about your business with the wrap.
You can also get window wraps to complement vehicle wraps. These wraps can cover the vehicle's glass, offering both privacy and maximum advertising space. If you request these window additions for your custom vehicle wraps, the window film will not cause trouble for the driver because they are perforated for driver visibility.
Custom Boat Wraps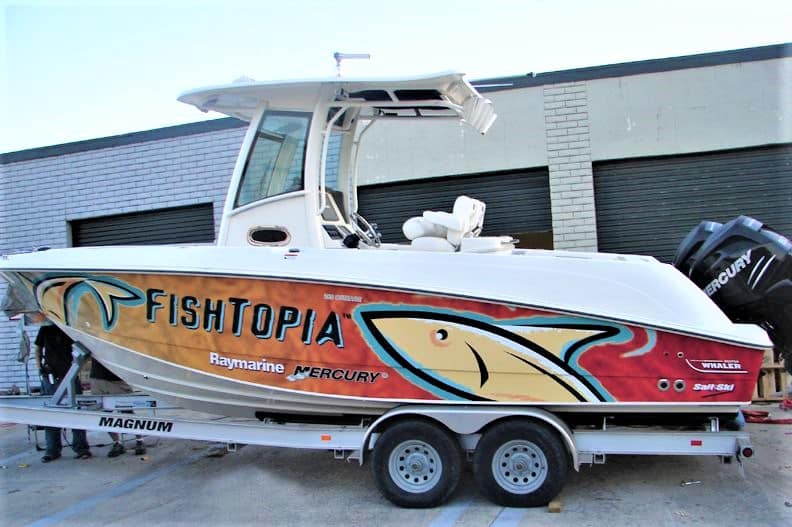 If your business is near or on water, you can request custom boat wraps from our team.
Our boat wraps are made from marine-grade vinyl, which is very durable and doesn't fade easily.
Our boat wraps can also be used for trucks, trailers, and equipment exposed to the elements. We will customize them to include your business details and logo so people can remember your brand and feel confident about your business.
Boat Identification Numbers
Our vinyl wraps for boats can include all the business information authorities and customers need to see before they check the boat inside. We can print your business details in our marine-grade vinyl wraps and guarantee that they won't fade even if exposed constantly to water or harsh weather conditions.
Your Designs, Perfected
At Alpharetta Custom Signs, we don't only make high-quality products. We also offer quality customer service that will reduce the stress of clients when it comes to requesting signs and wraps they need for their business. Whether you already have a design for us to use for your signs or not, our team can make it into vehicle wraps and complementary signs and graphics for your marketing strategy.
Our team can take your ideas and create the design that matches your ideas. Let us know what you want to see in your vehicle wraps, and we'll make sure it is added perfectly to the wrap's design.
Full-Service Vehicle Wrapping
Alpharetta Custom Signs's Alpharetta vehicle wraps team is dedicated to providing a stress-free experience for anyone who requests vehicle wraps from us. We are always on hand to guide you through our process and guarantee that you will be satisfied as we proceed through every step of the wrap project.
Our services start with a free consultation where we answer all your inquiries, as well as learn everything about the business to design the ideal image for your vehicle wraps. We will also take this time to improve our relationship with you, which will lead to a great partnership as we make your wraps. When we have all the details necessary for the draft design, we will present it to you and make the necessary changes if needed. We will only proceed to the next step when the design is perfect for your business targets.
When you approve the final design, our manufacturing team will handle the next phase and utilize the latest equipment and quality materials to make your vehicle wraps. The vehicle wraps will pass a quality control check to see if there are no missing elements in these wraps before our installation team takes over and installs them flawlessly in your vehicle.
We can also do maintenance, repairs, and wrap removals if requested. You can be assured that our wraps won't fade over time and are easy to remove, protecting the surface beneath them.
Free Vehicle Wrap Consultation
For quality vehicle wraps and graphics, we are the Alpharetta, GA sign company you can trust whenever you need them.
We can wrap any type of vehicle you may have on your business fleet and customize them to showcase your business and your marketing message. Our experts can also provide you with the guidance you need to understand how these vehicle wraps can improve your advertising campaign immensely and how we can design it to showcase your brand.
Call Alpharetta Custom Signs at (770) 872-6500 for your Free Consultation with an Alpharetta Vehicle Wrap expert!